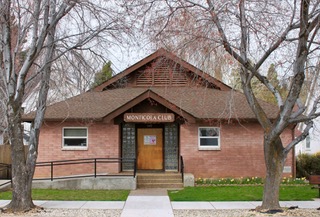 At Lassen Missionary Baptist Church, we are always excited to welcome new visitors! We hope you'll join us for a service, and we want to make your visit as comfortable as possible. Here's what you can expect when you come to our 9:30 am worship service.
Our church is located at 150 South Lassen Street in Susanville, California, however, we meet next door for worship service at the Monticola Club. It is located at 140 South Lassen Street. Parking is located along the street. If you have mobility restrictions or young children to carry, feel free to use one of the spots closest to the door. We like to keep them free for visitors and people who need assistance.
Please don't worry about what you'll wear to church, for we truly believe people should come to God as they are. You don't need to dress up to get His approval—that comes through Jesus' sacrifice.
When you walk into the Monticola Club, please feel free to grab a bulletin and get ready to make yourself at home. Because we rent the club, we set up church each Sunday. Feel free to find a seat where you feel most comfortable. Our worship services last from 9:30-10:30. We do have a sprouts program for children ages 0-Kindergarten, they will go over to the church after singing and announcements.
Following worship services, we split up for our adult, high school, middle school (4th-7th grades), and primary (0 to 3rd grade) Sunday school classes. We take a short break from 10:30-10:45. We hope that we will have the opportunity to introduce ourselves to you at this time. Please share any questions or concerns you may have.
As we split into age groups, the adult Sunday school class stays at the Monticola Club, while all of the children's classes meet next door at the church. If you have children, you are welcome to walk next door and meet the teachers, or even stay in a classroom if you so choose.
Sunday school will continue from 10:45-11:30. We will all come back together at 11:30 at the Monticola Club to have a final prayer and come together one more time as a church before heading out into our week.
We are truly thankful you are considering joining us! Please don't hesitate to reach out if you have any questions prior to coming.
God bless and we look forward to seeing you soon!